Wow, it's been a long time since I've written in here.
My absence from posting in this blog is easy to explain. I've just been busy with work and preparing for the fall that writing in this blog hasn't been a priority. I don't like it, but that's life, for better or worse. I hope to get back into the groove soon.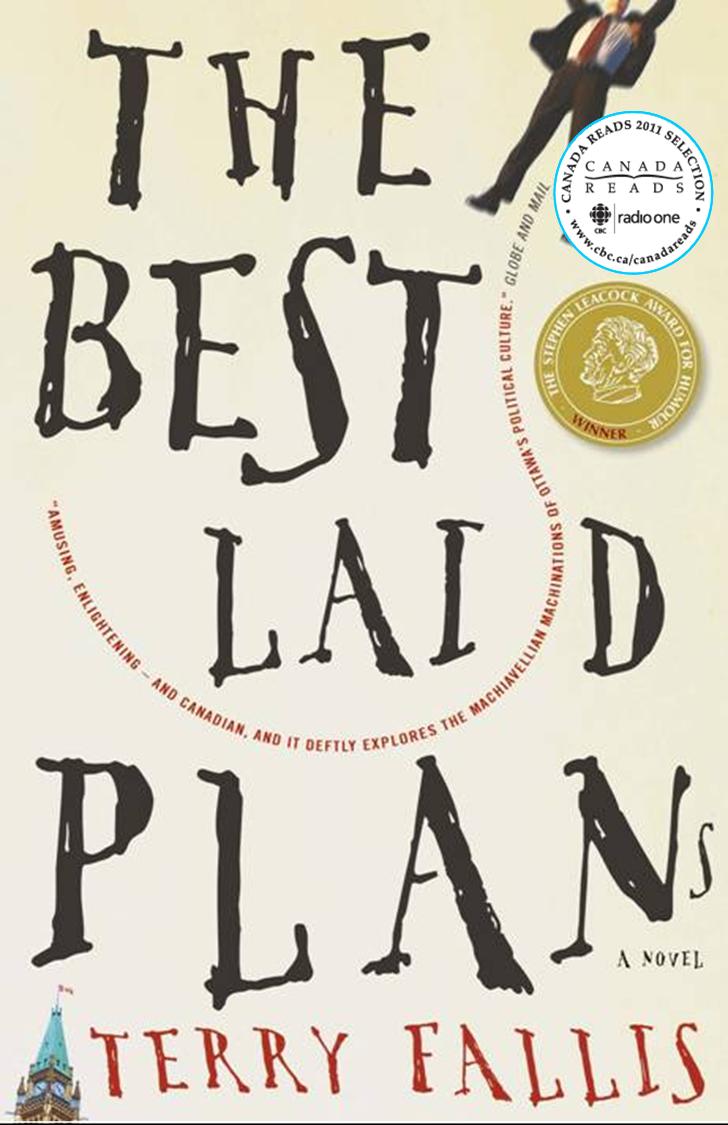 I've been doing a lot of reading this summer. I read everyday, sometimes have two books on the go. It's a practice I've honed during my time at university. when you have a full course load, you master reading multiple books, articles, and essays. And now that I have a Kobo, I find myself reading more. So, I thought to mark my return, I'd review one of the most entertaining novels I've read this summer.
Terry Fallis took an unorthodox method to becoming a publishing success. A former Liberal Party strategist, he experienced little interest from publishers for his debut novel
The Best Laid Plans.
Rather than getting discouraged, he started releasing his novel a chapter at a time in podcast form, building an audience, and then self-publishing the novel. It was awarded the Stephen Leacock Medal, and then was picked up by McCelland & Stewart for wide distribution.
The novel is most likely inspired by Fallis' experience working for the Liberal party. The novel is told from the perepsective of Daniel Addison, who works for the Liberal Party as a speechwriter. He has become increasingly burned out with politics, his idealism being stripped away after years of working in Parliament. However, after he hands in his resignation to the party leader, he is given one last task before he is allowed to leave. He must find a candidate to run under the Liberal banner in Cumberland-Prescott, one of the safest Tory ridings in Ontario.
Addison has just moved there, and tries to get Muriel Parkinson, an elderly woman who ran in five previous elections to be his nominee. She refuses due to her age and the disease she shares a name with. Finally, Daniel finds a person to represent the party in his landlord, Angus McClintock. Angus agrees to do it, so long as he doesn't have to do anything at all relating to the campaign, and also because it gets him out of teaching first year English for Engineers for the term, a job Daniel takes over in his place.
Much of the humour is derived from Daniel having to run a phantom campaign. He enlists two young punks, both named Pete, to canvass for him, while Angus is more content to play chess, work on his hovercraft, and write in his journal. In the last few days of the campaign, however, the Tory candidate's chances are decimated because of a sex scandal. Suddenly, Angus, who wanted nothing to do with the campaign, has been declared the winner by a slim margin.
Reading this novel, even though it was published in 2008, one can't help but notice parallels between the story and Ruth-Ellen Brosseau. Brosseau, for those who don't recall, won a seat as an MP for the NDP, despite not speaking French, not visiting the riding, and being on vacation in Las Vegas on Election night. It actually makes the satire funnier, as we have basis for this happening in real life. And many areas of politics are satirized, including voter apathy (people in Cumberland-Prescott would rather spoil their ballot than vote Liberal), scandals among the electorate, and Question Period
Throughout the novel, the reader is given excerpts from Angus' journals, in which he writes to his recently deceased wife Marin. These excerpts ground the novel, giving it a sense of poignancy, despite the humor that precedes these entries.
Fallis published a sequel in 2011 titled "The High Road." I would recommend both of his novels not only to anyone who has even the slightest interest in politics, because the humor will ring true to them, but also to those who don't care for politics, because their opinion on the entire process will be proven right.