Author's Note:
Happy New Year everyone!
First of all, I realize that it has been over 8 months since I've posted any entry in this blog. One of my new years resolutions is to become a more active blogger. Blogging is one way for me to improve my writing, and will allow me to avoid stagnating as a writer
.
2010 was one of the better years for music that I can recall. In my lifetime, I think that only 2000, 2001, and 2004 come close to matching the amount of quality music released this year. As a result, it made narrowing down items for my list difficult.
My list is simply a list. The only reward for artists on the blog is bragging rights. My influence on sales will likely be minimal, due to the small size and limited readership of this blog. Rankings were decided based on my enjoyment of the album. I went back and forth on the order of the rankings, but I am satisfied with the order now. Suggest your favorites in the comments section.
Here we go.
1. Titus Andronicus - The Monitor (XL)
It was back and forth between this album and Arcade Fire for the number one spot. But what made me choose The Monitor over The Suburbs was the following reason:
Arcade Fire already established themselves with
Funeral
. When I first saw the band, I thought that there was no way these guys could be successful. They dressed like they just stepped out of the 1890's. There were 8 members in the group. The cello was a main component of their sound! But, I listened to their album. The music was great; it connected on a level that no other band had been able to do before, and they've continued to expand upon Funeral. I'm sure that they could release an album that only contains the sounds of photocopiers and printers and it would still be successful (note to Win, Regine, and the gang: please don't do this). We expect greatness from the band every time they head into the studio or headline major festivals.
Titus Andronicus, however, I was questionable about. Their 2008 debut
The Airing of Grievances
had some really good songs, but really fell apart towards the end. Their second album sounded interesting based on a few samples, and I ended up buying it based on two reviews. Within a minute after putting it in my CD player, it grabbed a hold of me, and refused to let go until I finished the album.
Like
Funeral
,
The Monitor
is comprised of elements that really should not work. A loose Civil War concept. Spoken word interludes between songs, read by Craig Finn (The Hold Steady) and Cassie Ramone (Vivian Girls). Only two songs under 5 minutes in length. The closing song clocks in at 14 minutes, and features bagpipes, saxophones, and assorted percussion. I'm worried that the album is going to fall apart like
Grievances
. But it doesn't. Every portion fits into place. The Civil War is used as a metaphor for modern American discord, and the struggle of the individual and a homogenizing society. You get caught up in the music that you don't even notice that they've been rocking out for six minutes. And when "The Battle of Hampton Roads" comes to a close, you'll want to start the album from the beginning.
9 months later, when most indie bands fade into obscurity, replaced by the "next big thing", this album still holds up. The best album of 2010.
Favorite tracks: "A More Perfect Union," "No Future Part Three: Escape From No Future" "Theme from 'Cheers'" "The Battle of Hampton Roads" (every once in a while).
2. Arcade Fire- The Suburbs (Merge)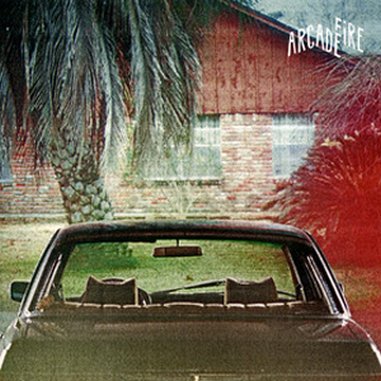 The Suburbs and The Monitor compliment each other nicely. Both deal with the conflict between conformity and individuality, but while Titus Andronicus take the "let's firebomb the institution" approach to the struggle, Arcade Fire are like "hey guys, let's think this through."
I've joked about Arcade Fire before, saying they're what will happen when you don't have the heart to kick your friends out of the band, and that they can record anything and people would talk about how profound it is, but in all seriousness, I'm happy for their success. They've grown a lot since
Funeral
, and have refined their style since then. This time, taking their influence from such artists as Neil Young, Bruce Springsteen and Depeche Mode, they combine those sounds into something original. A lesser-band would focus solely on the negative aspects of suburbia, but Arcade Fire is not a lesser band. They handle the subject with maturity, and I believe this may be the first album that examines suburban life from a parent's perspective, not just focusing on the kids. At times, cynical and soul-crushing, but also hopeful and empathetic,
The Suburbs
is still one of the best albums of the year despite its number two ranking on my list. If you want to put it at number one, I won't hate you.
P.S. Some reviews have compared the album to Radiohead's masterpiece
OK Computer
, but we need to wait a few years to see if it holds up.
P.P.S. Arcade Fire Drinking game: Take a drink everytime "The kids" is mentioned in the songs.
Favorite Tracks: "The Suburbs" "Ready to Start" "Rococo" "Deep Blue"
3. The Black Keys – Brothers (Nonesuch)
Everyone in my social circle (but mainly Marc and Jeff) loved this album. I'll admit, the obnoxious album cover initially turned me off. But, open mind and whatnot. I'm a fan of that garage-rock style, and Brothers filled that quota, and exceeded it.
The most impressive thing about this album is that despite the potential for songs sounding the same (a common criticism of this style), each song feels distinctive and unique, setting itself apart from the others. In addition, this album is the perfect summer album, designed for watching sunsets from your porch at the cottage, or splashing in the pool on the hottest day of the year.
Favorite Tracks: "Next Girl," "Tighten Up," "Howling for you" "Sinister Kid"
4. Film School – Fission (Hi-Speed Soul)
I first discovered Film School in 2007 when I started volunteering at CKUW. I actually wrote down the title of their CD at the time (
Hideout
), and bought it later. Amazing album, despite the feedback interludes that I felt were unnecessary, and a little too much like My Bloody Valentine. I worked backwards, finding their albums (still working on finding all of Brilliant Career, but it is out of print), and was worried that they had broken up when no new material had come from them for two years (with the exception of a cover song for a shoegaze tribute album). But, in 2010, they revealed that they had gone independent and were working on their new album. I was anxious to hear it, especially after the release of the first song "Heart Full of Pentagons." Even being delayed for a month (a result of signing with Hi-Speed Soul) couldn't stop my excitement.
It is a noticable change in style from their previous albums. There is still a My Bloody Valentine influence, but mixed with Metric and Yo La Tengo. Keyboards and synthesizers are more prominent on this album, giving it more of a dance rock and pop influenced sound, and bassist Lorelai Plotcyzk became a more prominent vocal presence. Despite these changes, it still feels like a Film School album, containing some of their old trademarks (abstract lyrics, layered guitars), but refining their sound into something different,. They became more accessible with this release, and are poised to reap success that they deserve with this album.
Favorite tracks: "Heart full of Pentagons" "Waited" "Distant Life" "When I'm Yours"
5. The National – High Violet (4AD)
If you release one of the most critically acclaimed albums of 2007, how do you ever hope to follow it up? Take what worked for you the last time, and go from there.
High Violet
is an album that is beautiful despite its bleakness (god damn, that sounded pretentious). Musically and lyrically, it is a darker album than
Boxer
(and remember, that wasn't the most cheerful album to begin with), but still contains enough optimism to avoid making it completely gloomy. Still, this is a nighttime album through and through. Musically strong, with everyone in the band at the top of their game, it sticks with you for days after listening to it, and lyrically top notch. It's hard to explain why I keep coming back to this album, but it has wormed its way into my playlist this month. I wonder if it is due to the winter, and the mindset I am in right now. Still, a great album, and that is three in a row for the band. They have huge expectations for the follow-up.
Favorite tracks: "Anyone's Ghost" "Afraid of Everyone" "Bloodbuzz Ohio" "Vanderlyle Crybaby Geeks"
6. The Pack A.D. – We Kill Computers (Mint)
Moving away from their blues roots, Becky Black and Maya Miller fully embrace a hard rock sound on their third album. An aural assault on the listener, this record is loud, grungy, and holds nothing back. Two women, armed with a guitar and drums, rock harder than most bands on active rock radio these days. Easily the heaviest album of the year.
Favorite tracks: "Deer" "1880" "Big Anvil" "K Stomp"
7. Drive-By Truckers – The Big To-Do (ATO Records)
Drive-By Truckers were a band I got into the year before, after watching a repeat of their appearance on Austin City Limits. They straddle a fine line musically, containing enough twang to appeal to country listeners, but still a rock band first and foremost. Their eighth studio album is more accessible this time around, taking more influence from Tom Petty. The stories contained in the songs, such as "This Fucking Job" and "Birthday Boy" are more universal in their scope, and deal with issues in the present rather than the past. Musically, the addition of Jay Gonzalez on piano also differentiates the album from its predecessors. Music today needs more piano or organ. It always adds something to a band.
Favorite songs: "The Fourth Night of my Drinking," "Birthday Boy" "This Fucking Job" "Eyes Like Glue"
8. Vampire Weekend – Contra (XL)
If you looked up "stereotypical indie band" in the dictionary, you'd probably find a picture of Vampire Weekend. A bunch of Ivy league grads, influenced by worldbeat and reggae, writing songs about the oxford comma. You should hate the based on the description! But, in 2008, they managed to become the next big thing in indie music. But, the question was whether or not they were just a flash in the pan, like many bands before.
Then, Contra was released. It felt more like a Vampire Weekend album, rather than an album of their influences. Ezra Koening used his voice as another instrument to the sound, working it over various samples and sound scapes. They carefully blend worldbeat, surf music, arena rock, and good old fashioned pop into one of the more enjoyable albums of the year. In addition, "California English" contains the best use of Autotune ever.
Favorite tracks: "Horchata" "California English" "Giving up the gun." "I Think ur a contra"
9. Trent Reznor & Atticus Ross – The Social Network (Null)
Yes, I'm a Trent Reznor fan boy. Yes, this is the score to the movie. But, one of Reznor's strengths is making emotional music without having to sing a word. It adds to the movie (one of the best of 2010), and is one of the most memorable aspects of it. And, this album works well without the context of the movie as ambient music. I have it on in the background as I'm writing this.
Favorite tracks: "Hand Covers Bruise" "In Motion" "Magnetic" "In the Hall of the Mountain king"
10. Dr. Dog – Shame, Shame (ANTI)
Very retro inspired sound, with shades of 1960's pop and psychedelic. This is a summertime record that I enjoy more with each listen. And I'm tired of writing, so this shall remain brief.
Favorite tracks: "Stranger" "Shadow People" "I Only Wear Blue" "Mirror, Mirror"
***
Here is the list. Check these albums out, and support these bands.
What were your favorite albums of 2010? Recommend me some albums.